All products below manufactured by Summit Dental System
Palm Beach Dental Chair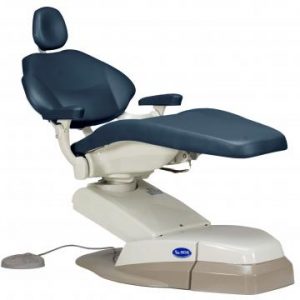 Premium Features
The Palm Beach chair offers a 60° swivel base for convenient chair top positioning for office's auxiliary applications. The armrests swivel out of the way for easy entry and egress of the chair, while the operator can quickly place the chair into various positions with the touch of one button. This is because the Palm Beach chair comes standard with two programmable pre-positions and automatic return that can be operated by membrane button controls that are located on the backrest and a seven-function foot control for hands free operation. The double-articulating headrest provides virtually unlimited positioning, which makes access to the oral cavity much easier. With patient comfort in mind, the Palm Beach chair provides lower lumbar support and a synchronized backrest and seat movement that cradles the patient as they are moved in and out of operating positions.
Safety counts, that's why the Palm Beach chair is equipped with an emergency base assembly safety pan. This feature will stop the base as it travels down when the chair is being lowered just in case there is an object between the base plate and the lift assembly until the obstruction can be removed.
*Shown with Optional Ultraleather Upholstery
Biscayne Chair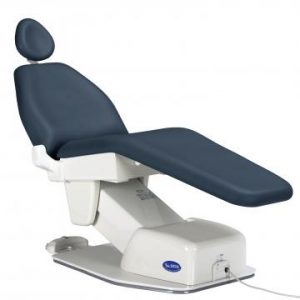 With a power base and back, the Biscayne chair provides the versatility to be used for either orthodontics or general dentistry. At a price point comparable to most fixed base chairs in the industry, the Biscayne is a viable options for any practice. The Biscayne chair is designed to last a lifetime. Utilizing a quiet and smooth hydraulic operation, the chairs are comfortable, easy to use, and virtually maintenance free.
CHAIR FEATURES
Hydraulic Base and Back
Auto Return Function
Manual Position Button
Double Articulating Headrest