Air & Vac
The Mechanicals….
Complete Line of Air Compressors, Replacement Drying Systems, Water Solenoid Assemblies, Vacuum Pumps and much more…
Call 815-455-4764 to discuss Compressor and Vacuum solutions.
---
Tech-West Air Compressors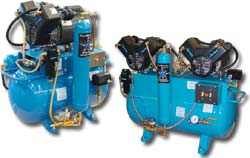 Tech West's Ultra Clean Oil-less Compressor supplies 100% oil-free air to the dental office environment. Tech West guarantees the clean, dry air you expect from a high performance drying system. Through its smooth, vibration-free running at 72 DB, the Ultra Clean air compressor prevents the expensive and inconvenient need for a sound cover. All oil-less Tech West compressors are equipped with energy efficient heads, large cooling fans and Teflon-coated pistons and cylinders that provide years of dependable service. The Ultra Clean features moisture indicators, epoxy-coated tanks and rubber-leveling feet, along with handles for easy lifting and installation. The Tech West Ultra Clean Oil-less compressor is offered in a variety of configurations from a single unit to dual or triple units. Tech West provides an extensive warranty program, as well as, upon request, full plumbing and electrical assistance.
Oil-Less Tech-West Air Compressors 3 year warranty on motors, 2 Years on All Other Parts.
---
---
Steri-Dent Portable Vacuum Machines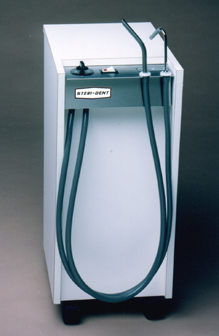 Compact
Measures only 12″ x 15″ x 26″. It is no obstacle at chairside and stores inconspicuously. Shipping weight – 50 lbs.
Easy Maintenance
Non-corrosive collection canister cleans easily and is equipped with an automatic overflow shut-off. Motor comes with a one-year guarantee and can be replaced in minutes with a screwdriver.
Moves Easily
Rolls quietly on large carpet casters.
Special Uses
Needed especially by the dentist in a temporary location or when it is not feasible to install a central system. Perfect for such specialists as periodontists, endodontists, orthodontists, and hygienists. Value Priced
Easily the least expensive of oral evacuation units. Excellent for limited budgets.
Efficient
Adjustable motor speed can evacuate indefinitely at the rate of 75 cfm, or can be adjusted to the doctor's preference.
Finish
Ice White Matte or Walnut
Ideal for Backup
A lifesaver when the central system breaks down. Doctor just rolls it out, plugs it in, and keeps operating.
Specifications
By-pass motor 7.5 Amps – 115V 60Hz.
Also available in 220/230V.
Steri-Dent – Oral evacuation mouthpieces and accessories